ONLINE CLASS! Intro To Sous Vide Cooking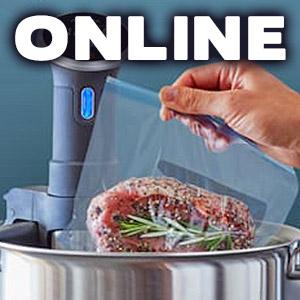 32 Seats available
Price $30.00
Instructor: Bruce Campbell
Location: Online Cooking Class!
THIS CLASS IS OFFERED ONLINE AS A LIVE COOKING CLASS!
Yup! We'll be sharing the same amazing culinary education you'd get if your backside were in a seat in our kitchens, except you can be in your jammies (we won't judge!). Take notes. Ask questions and have the instructor answer them LIVE! Take your skills in the kitchen up a tasty notch. We promise it'll feel a whole lot like you're here AND you'll be practicing safe social-distancing (See what we did there?) (See details below to register.)
Class Description:
Get ready to take your cooking skills to a whole new level in this BRAND NEW class where you'll learn simple secrets to take the mystery out of one of the most popular culinary trends – Sous Vide cooking.
Join longtime CCKC instructor and sous vide aficionado Bruce Campbell, as he shares his tips (a/k/a awesome hacks) while leading this afternoon's online class on how to use and operate a sous vide machine so you can achieve quality results in today's fast paced life. Psst… Bruce uses the sous vide technique in many of his popular cooking classes, so you can rest assured he knows all of the ins & outs.
Sous vide cooking is much easier than you might think, and Bruce will prove it as he teaches tips and tricks to properly utilize this amazing tool. Of course, he'll demonstrate sous vide techniques in today's informative class as he cooks up some food while showing you how to finish proteins 3 different ways – flame, grill and bake! He'll even cook a dessert the sous vide way!
The groovy tips and techniques that you'll learn in this class, are sure to have you on your way to becoming a sous vide expert in your own kitchen. And, if you don't own a machine yet, he'll inspire you to bite the bullet and purchase one of these versatile machines so you can create your own sous vide magic. Honest to goodness, it will change your life, and take your cooking skills to new heights. Promise.
Online Class | Includes Recipes
Sat 5/23/20 Class Begins At 1:00 p.m. CST
Here's How To Be A Part Of This Online Class:
1. Register below and receive a Confirmation Email with your "Order Number"
2. Separately, we'll send you a link to a Closed Facebook Group set up just for this Class where you will OPT IN using that "Order Number."
Thank you!
Sold Out
Events in this Series:
Series description
An error occured. Wait a few minutes then try again. If the problem persists contact technical support.