ONLINE CLASS! Cooking for One or Two with Chef Jill Garcia Schmidt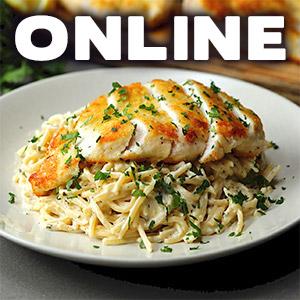 37 Seats available
Price $40.00
Instructor: Chef & Lead Instructor Jill Garcia Schmidt
Location: Online Cooking Class!
THIS CLASS IS OFFERED ONLINE AS A LIVE COOKING CLASS!
Yup! We'll be sharing the same amazing culinary education you'd get if your backside were in a seat in our kitchens, except you can be in your jammies (we won't judge!). Take notes. Ask questions and have the instructor answer them LIVE! Take your skills in the kitchen up a tasty notch. We promise it'll feel a whole lot like you're here AND you'll be practicing safe social-distancing (See what we did there?) (See details below to register.)
Class Description:
It can be tricky business when cooking for one (or even two) to make the most of your ingredients and to minimize dishes — particularly when the majority of recipes focus on making a meal for a family and serve four to six people. just because you have a smaller household doesn't mean you should totally abandon the kitchen for takeout - or eat the same foods over and over again. You know who you are!
Enter Chef & Lead Culinary Instructor Jill Garcia Schmidt to the rescue. Of course, Chef Jill regularly cooks for larger crowds here at The Culinary Center of Kansas City, but she's also highly skilled and creative when it comes to cooking smaller portions. She does it all the time when preparing meals for she and her husband, so she understands the need and is excited to share some of her favorite recipes with you tonight.
She'll teach essential tips and techniques like basic knife skills, whisking, stirring, the correct way to measure, and more as you learn to make great home-cooked meals designed especially for one or two – using simple, fresh ingredients.
Planning ahead and arming yourself with a few tips and tricks will put you on the path to triumph in the kitchen. One of Chef's most helpful strategies when cooking for one or two is to become friends with your freezer. This way, you can cook full recipes, portion out servings and freeze them to heat up and eat later.
Throughout class, Chef Jill will explore more great tips for shopping, food storage, perking up prepared foods and just plain cooking smaller portions. She'll also discuss the basic food items you need to keep in your pantry so you can whip up supper at home instead of ordering out.
You'll get great recipes too! After this informative class, you'll find out you CAN create healthy, quick smaller portioned meals on your own. Say goodbye to food waste and eating the same meal every night of the week!
Online Class | Recipes Included
Tue 3/24/20 6:30 - 8:00ish p.m.
Here's How To Be A Part Of This Online Class:
1. Register below and receive a Confirmation Email with your "Order Number"
2. Separately, we'll send you a link to a Closed Facebook Group set up just for this Class where you will OPT IN using that "Order Number."
Thank you!
Sold Out
Events in this Series:
Series description
An error occured. Wait a few minutes then try again. If the problem persists contact technical support.