ONLINE CLASS! Handmade Marshmallow Easter Eggs with Pastry Chef Natasha Goellner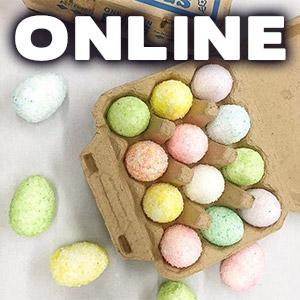 Price $40.00
Instructor: Chef Natasha Goellner
Location: Online Cooking Class!
Sold Out
THIS CLASS IS OFFERED ONLINE AS A LIVE COOKING CLASS!
Yup! We'll be sharing the same amazing culinary education you'd get if your backside were in a seat in our kitchens, except you can be in your jammies (we won't judge!). Take notes. Ask questions and have the instructor answer them LIVE! Take your skills in the kitchen up a tasty notch. We promise it'll feel a whole lot like you're here AND you'll be practicing safe social-distancing (See what we did there?) (See details below to register.)
Class Description:
This class will be loved by both adults and by kids. Because who doesn't love decorated homemade marshmallow Easter eggs, right?
This really sweet class will explore the fabulous world of fluffy handmade marshmallow Easter Eggs. Your instructor, Pastry Chef Natasha Goellner, is a graduate of The French Culinary Institute and past owner of Mulberry & Mott's (Country Club Plaza, KC) and currently the Pastry Chef at The Antler Room. She brings years of experience to the table, so you're in luck as you'll be learning from a very talented professional.
You'll sit back and relax in the comfort of your own home as Chef Natasha teaches you the fundamentals while preparing a basic marshmallow recipe, including how to add a special twist to the finished product.
In this fun class, you'll learn loads of helpful candy-making and decorating tips, such as techniques for adding the sugar crystals, the importance of a candy thermometer and how to use it to differentiate between the various stages of cooked sugar. Once you've mastered this handy kitchen tool, you'll be ready to make just about any sweet confection in your own kitchen.
Then, Chef will demonstrate how to use a pastry bag to pipe the marshmallow mixture into egg molds to form perfect Easter egg shapes. Finally, she will share her tips as she finishes off the eggs with a sparkly pastel sanding sugar coating to create sweet colorful Easter treats.
These pretty little lighter-than-air eggs will be perfect for your Easter table, as well as cute little gift ideas. Trust us, they're worlds better than anything you'll buy in a store.
Don't worry, you'll get the recipes so you can recreate these candy gems any time you want. And, we're betting they'll garner lots of ooh's and aah's from family and friends when you tell them you made them yourself. Promise.
Online Class | Recipes Included
Sat 3/28/20 10:00 a.m. - 12:30ish p.m.
Here's How To Be A Part Of This Online Class:
1. Register below and receive a Confirmation Email with your "Order Number"
2. Separately, we'll send you a link to a Closed Facebook Group set up just for this Class where you will OPT IN using that "Order Number."
Thank you!
Sold Out
Events in this Series:
Series description
An error occured. Wait a few minutes then try again. If the problem persists contact technical support.