ONLINE CLASS! Air Fryer Cooking For Dummies with Chef Jill Garcia Schmidt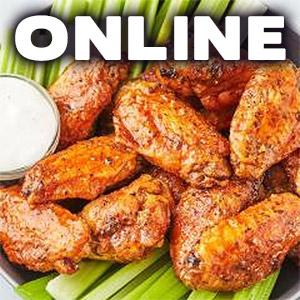 Price $30.00
Instructor: Chef & Lead Instructor Jill Garcia Schmidt
Location: Online Cooking Class!
Sold Out
THIS CLASS IS OFFERED ONLINE AS A LIVE COOKING CLASS!
Yup! We'll be sharing the same amazing culinary education you'd get if your backside were in a seat in our kitchens, except you can be in your jammies (we won't judge!). Take notes. Ask questions and have the instructor answer them LIVE! Take your skills in the kitchen up a tasty notch. We promise it'll feel a whole lot like you're here AND you'll be practicing safe social-distancing (See what we did there?) (See details below to register.)
Class Description:
So, you just had to have one of those new air fryers and now you don't know what the heck to do with it? Not to worry... our own Chef and Lead Instructor Jill Garcia Schmidt is ready to step into the rescue.
She loves to try out all the latest and greatest kitchen equipment and gadgets… and she has absolutely fallen in love with the air fryer and has found that she can't live without it in her own home. With a teaching style that's easy-to-understand and her infectious enthusiasm for all things cooking, you're in for a treat.
Chef Jill will share her tips and secrets for using this amazing mini-convection oven correctly. and show you how easy it is to cook with it and achieve perfect results ever time. The results are much healthier than oven frying, and your kitchen stays cool. While it does a very good job at cooking other meats and vegetables, the air fryer really shines at mock deep frying.
Chef Jill will make a believer out of you as she prepares a couple of her favorite air-fried dishes right before your very eyes. Plan to take plenty of notes in this informative online class.
Online Class | Includes Recipes
Thu 5/28/20 Class Begins at 6:00 p.m. CST
Here's How To Be A Part Of This Online Class:
1. Register below and receive a Confirmation Email with your "Order Number"
2. Separately, we'll send you a link to a Closed Facebook Group set up just for this Class where you will OPT IN using that "Order Number."
Thank you!
Sold Out
Events in this Series:
Series description
An error occured. Wait a few minutes then try again. If the problem persists contact technical support.