(No Longer Available) ONLINE CLASS! How To Cook An Egg with Chef Jill Garcia Schmidt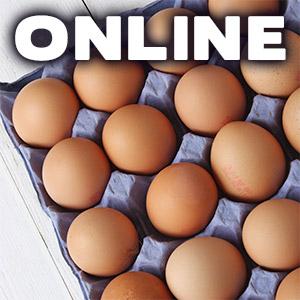 2 Seats available
Price $30.00
Instructor: Chef & Lead Instructor Jill Garcia Schmidt
Location: Online Cooking Class!
THIS CLASS IS OFFERED ONLINE AS A LIVE COOKING CLASS!
Yup! We'll be sharing the same amazing culinary education you'd get if your backside were in a seat in our kitchens, except you can be in your jammies (we won't judge!). Take notes. Ask questions and have the instructor answer them LIVE! Take your skills in the kitchen up a tasty notch. We promise it'll feel a whole lot like you're here AND you'll be practicing safe social-distancing (See what we did there?) (See details below to register.)
Class Description:
Join us for a cooking fundamentals class where Chef & Lead Instructor Jill Garcia Schmidt, with her fun teaching style and passion for all things cooking, will teach us all we need to know about the versatile egg, not to mention loads of essential culinary techniques while she's at it.
Eggs perform many cooking tasks, from holding foods together to leavening, and more. However, for all their versatility and wonder, eggs present challenges to the cook. Precisely because they are such a basic ingredient, it's easy to overlook how important egg know-how is to fine cooking. Understanding how to use eggs can mean the difference between an ordinary and an extraordinary dish.
Chef Jill is eager to teach you the know-how, practical application, and the language and techniques relating to the ubiquitous egg. You'll learn as she shows you the right way to bake, boil, fry, poach, and scramble with perfection. She'll also show you how to make eggs really shine as she teaches one of her favorite Mexican egg dishes, Huevos Rancheros. Yum!
Trust us, this class will change the way you cook… promise!
Online Class | Includes Recipes
Sat 5/30/20 Class Begins at 10:00 a.m. CST
Here's How To Be A Part Of This Online Class:
1. Register below and receive a Confirmation Email with your "Order Number"
2. Separately, we'll send you a link to a Closed Facebook Group set up just for this Class where you will OPT IN using that "Order Number."
Thank you!
Sold Out
Events in this Series:
Series description
An error occured. Wait a few minutes then try again. If the problem persists contact technical support.