ONLINE CLASS! Cast Iron Skillet Cooking Featuring Southern Flavors with Chef Richard McPeake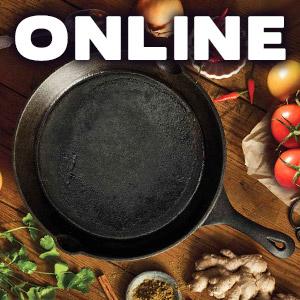 33 Seats available
Price $30.00
Instructor: Chef Richard McPeake
Location: Online Cooking Class!
THIS CLASS IS OFFERED ONLINE AS A LIVE COOKING CLASS!
Yup! We'll be sharing the same amazing culinary education you'd get if your backside were in a seat in our kitchens, except you can be in your jammies (we won't judge!). Take notes. Ask questions and have the instructor answer them LIVE! Take your skills in the kitchen up a tasty notch. We promise it'll feel a whole lot like you're here AND you'll be practicing safe social-distancing (See what we did there?) (See details below to register.)
Class Description:
What's dependable, durable, super affordable, making a welcome comeback, and will last a lifetime? Cheater, you peeked at the title! That's right – the correct answer is cast iron.
It may be old-fashioned and remind you of grandma's kitchen (which isn't really a bad thing, is it?) but when it comes to cookware, the cast iron skillet is not going anywhere, much less the way of the dinosaur. And when it comes to teaching us how to use it, there's nobody better suited for the job than one of our most popular instructors, Chef Richard McPeake.
Chef is excited to show off his ownbrand of culinary expertise ashe walks you through the art of cast iron cooking while teaching you how to prepare some of his favorite southern-inspired dishes like Southern Fried Chicken Tenders, Acadian Corn Maque Choux (pronounced mock shoo) and Cheesy Corn & Jalapeno Beer Bread. Whoa! He's a wealth of knowledge in the kitchenwith over 25 years of professional cooking under his toque, so you'll be learning from one of the best in the business.
Tonight, Chef Richard will teach youmuch about versatile cast ironcookware – highly valued for its cooking properties because it evenly distributes and holds heat. It's great for deep-frying, searing and even baking … and can go from the stovetop, into an oven or even onto the grill! What other cooking vessel can make those claims?And, did you know there's a right and wrong way of cleaning and caring for your cookware? Hint….it's called seasoning, and when done right, your cast iron cookware will last a lifetime. Chef will show you how it's done.
After this informative online class, you won't know how you lived without a cast iron skillet in your own kitchen!
Online Class | Includes Recipes
Wed 5/27/20 Class begins at 7:00 p.m. CST
Here's How To Be A Part Of This Online Class:
1. Register below and receive a Confirmation Email with your "Order Number"
2. Separately, we'll send you a link to a Closed Facebook Group set up just for this Class where you will OPT IN using that "Order Number."
Thank you!
Sold Out
Events in this Series:
Series description
An error occured. Wait a few minutes then try again. If the problem persists contact technical support.