ONLINE! Happy Hour 'Drink-Along' Wine Class: Food & Wine Pairing Basics with Chef Andrew Kneessy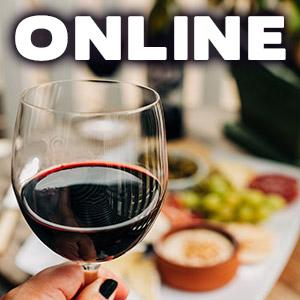 31 Seats available
Price $30.00
Instructor: Andrew Kneessy
Location: Online Cooking Class!
THIS CLASS IS OFFERED ONLINE AS A LIVE COOKING CLASS!
Yup! We'll be sharing the same amazing culinary education you'd get if your backside were in a seat in our kitchens, except you can be in your jammies (we won't judge!). Take notes. Ask questions and have the instructor answer them LIVE! Take your skills in the kitchen up a tasty notch. We promise it'll feel a whole lot like you're here AND you'll be practicing safe social-distancing (See what we did there?) (See details below to register.)
Class Description:
Oh man… this class will be a fun one. Join Chef and Wine Educator Andrew Kneessy for a very special wine education class where you get to "drink along" with him in the comfort of your own home as he teaches you the basics of pairing food and wine. He is even going to show you how to prepare a couple of dishes that are PERFECT pairings for the wines. He IS a chef, you know!
Here's how it works: Chef will be teaching using two white wine varietals (a Chardonnay and a Sauvignon Blanc) and two red wine varietals (a Pinot Noir and a Cabernet Sauvignon). Prior to the class, you purchase (or grab from your wine stash at home) these 4 varietals made by any wine producer you like. You assemble 4 wine glasses and a wine opener. Then you wait for direction from Chef Andrew. He'll walk you through opening, testing and pouring, then he'll get right into the actual wine tasting. He'll tell you HOW to taste, too. There is a right way and a wrong way, in case you didn't know.
While you're enjoying the fruit of the vine, Chef will talk about how to pair foods with each varietal, as well as showing you how to make two dishes that pair like no other with two of those varietals.
You don't need to "cook along" in this class… only "drink along." You can interact with Chef Kneessy by asking your questions during class, and he'll respond right then and there! That's how this whole online class thing works.
So join us for this unique online food & wine pairing class. Cheers!
Online Class | Includes Recipes
Thu 6/04/20 Class Begins at 6:00 p.m. CST


Here's How To Be A Part Of This Online Class:
1. Register below and receive a Confirmation Email with your "Order Number"
2. Separately, we'll send you a link to a Closed Facebook Group set up just for this Class where you will OPT IN using that "Order Number."


Thank you!
Sold Out
Events in this Series:
Series description
An error occured. Wait a few minutes then try again. If the problem persists contact technical support.