ONLINE CLASS! Chef Jill's Kick-Butt Backyard Grill Party! Burgers, Kabobs and More!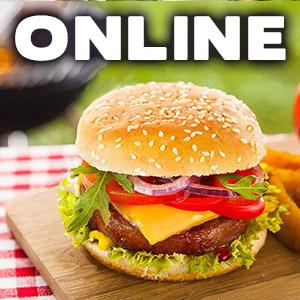 38 Seats available
Price $30.00
Instructor: Chef & Lead Instructor Jill Garcia Schmidt
Location: Online Cooking Class!
THIS CLASS IS OFFERED ONLINE AS A LIVE COOKING CLASS!
Yup! We'll be sharing the same amazing culinary education you'd get if your backside were in a seat in our kitchens, except you can be in your jammies (we won't judge!). Take notes. Ask questions and have the instructor answer them LIVE! Take your skills in the kitchen up a tasty notch. We promise it'll feel a whole lot like you're here AND you'll be practicing safe social-distancing (See what we did there?) (See details below to register.)
Class Description:
Let's face it! Backyard summertime pool parties aren't going away any time soon! So why not take your menus up a notch and impress your family and friends! Get in on this informative online class as Chef & Lead Instructor Jill Garcia Schmidt is ready to show you right way to grill Burgers and Chicken Kabobs.
The average Joe churns out a cattleman's share of hamburgers on their grill each year. Then why do most folks struggle with how to cook them correctly? Chef Jill (who is a HUGE burger lover, by the way) says "No More Ho Hum Burgers!" She'll share pro tips on how it's done right – everything from how to season the meat (yep, there's a right way that makes all the difference!), the proper way to handle the beef, correct cooking temperatures, when to add the cheese and how to cook until it melts into a molten covering of ooey, gooey, goodness ('cause a burger ain't a burger without the cheese, am I right?!) and lots more handy tricks of the trade.
You'll be grilling & flippin' burgers like pros in no time! What the heck, let's learn some presentation skills and some awesome add on toppings for our burgers, too.
Backyard meals can't be ALL about burgers though, so Chef will also walk you through the steps to create THE best Chicken Kabobs you've ever had - made with marinated chicken and colorful vegetables, all threaded onto skewers and cooked to perfection.
Finally, a summertime cookout isn't complete without a sweet treat, so get ready to learn Chef Jill's refreshing Pink Lemonade Pie. Wow!
Don't miss this smokin' hot online cooking class that will take your summertime cookouts to the next level….…and just in time for the 4th of July holiday! You're welcome.
Online Class | Includes Recipes
Thu 7/2/20 Begins at 6:00 p.m. CST
Here's How To Be A Part Of This Online Class:
1. Register below and receive a Confirmation Email with your "Order Number"
2. Separately, we'll send you a link to a Closed Facebook Group set up just for this Class where you will OPT IN using that "Order Number."
Thank you!
Sold Out
Events in this Series:
Series description
An error occured. Wait a few minutes then try again. If the problem persists contact technical support.