ONLINE CLASS! We're Cookin' Up Cajun Favorites with Chef Richard McPeake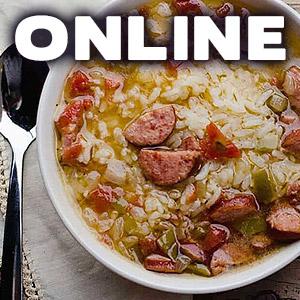 41 Seats available
Price $30.00
Instructor: Chef Richard McPeake
Location: Online Cooking Class!
THIS CLASS IS OFFERED ONLINE AS A LIVE COOKING CLASS!
Yup! We'll be sharing the same amazing culinary education you'd get if your backside were in a seat in our kitchens, except you can be in your jammies (we won't judge!). Take notes. Ask questions and have the instructor answer them LIVE! Take your skills in the kitchen up a tasty notch. We promise it'll feel a whole lot like you're here AND you'll be practicing safe social-distancing (See what we did there?) (See details below to register.)
Class Description:
Listen here, ya'all, tonight, we're takin' favorite classic Southern-Style dishes and showing you how it's done – Chef McPeake- style!
Thirty plus years as a professional chef and a graduate of the Culinary Institute of America, Chef Richard has tricks up his sleeve that you won't believe. He'll explore the spicy world of authentic Cajun cuisine that's brimming with tradition, culture and flavor, and best exemplified by the dishes found in the south.
No one knows this unique cuisine better than Chef Richard McPeake who spent 25 years supervising the Seaport Cajun Café, on Bourbon Street in New Orleans. Chef Richard has designed this special online class so you can learn to apply essential culinary skills as he teaches you to prepare the interesting regional dishes he knows and loves so well.
He'll teach important culinary fundamentals along the way including: "blackened" techniques using seasonings to their fullest; deep and complex sauces; the trinity (Cajun Mirepoix); making and using a dark roux; basic knife skills, sauce-making and flambé tips and much, much more!
Chef will prepare classic N'Awlin delights - spicy Chicken & Sausage Gumbo and Nawlin's Butter Poached Shrimp. For our grand finale, Chef will show off his culinary skills as he dazzles while making a classic southern dessert - Bananas Foster Flambé Dessert. Ayee!
Online Class | Includes Recipes
Tue 7/07/20 Begins at 6:00 p.m. CST
Here's How To Be A Part Of This Online Class:
1. Register below and receive a Confirmation Email with your "Order Number"
2. Separately, we'll send you a link to a Closed Facebook Group set up just for this Class where you will OPT IN using that "Order Number."
Thank you!
Sold Out
Events in this Series:
Series description
An error occured. Wait a few minutes then try again. If the problem persists contact technical support.