ONLINE CLASS! Quick & Easy 5-Ingredient Dishes with Chef Jill Garcia Schmidt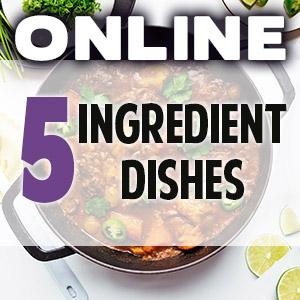 39 Seats available
Price $15.00
Instructor: Chef & Lead Instructor Jill Garcia Schmidt
Location: Online Cooking Class!
THIS CLASS IS OFFERED ONLINE AS A LIVE COOKING CLASS!
Yup! We'll be sharing the same amazing culinary education you'd get if your backside were in a seat in our kitchens, except you can be in your jammies (we won't judge!). Take notes. Ask questions and have the instructor answer them LIVE! Take your skills in the kitchen up a tasty notch. We promise it'll feel a whole lot like you're here AND you'll be practicing safe social-distancing (See what we did there?) (See details below to register.)
Class Description:
It doesn't take a pantry full of ingredients to create a tasty main dish. As a matter of fact, you can do it with only FIVE. Don't believe us? Sign up for this great online class and Chef & Lead Instructor Jill Garcia Schmidt will show you how it's done! She has a love of food and an incredible talent for teaching others - with ease, simplicity and sprinkled with humor.
You don't need a truckload of groceries to cook up a delicious meal. Chef is a true believer that less is more and will focus on how you can save time and money by serving up family-friendly recipes that use just five ingredients.
But here's the scoop: salt, pepper, flour, sugar, and one cooking oil don't count. Why? Because you already have those in your pantry, silly! (…and if you don't, you should).
Get ready to be dazzled by Chef Jill's cooking skills as she teaches basic techniques like knife skills, sautéing, measure the proper way, and more while whipping up simple tasty dishes like using just five ingredients. It's not magic… you just need a little know-how from a pro like Chef Jill and you'll be whipping up simple meals in your own kitchen in no time. Easy Peasy!
Online Class | Includes Recipes
Mon 7/13/20 Begins at 6:30 p.m. CST
Special Onsite Deal: We are offering a very limited number of students the ability to sit right in our kitchens as Chef Andrew teaches the online version of this class. Yup. You'll smell, hear, TASTE and interact with Chef. See offering on this same date in our calendar to register.
Here's How To Be A Part Of This Online Class:
1. Register below and receive a Confirmation Email with your "Order Number"
2. Separately, we'll send you a link to a Closed Facebook Group set up just for this Class where you will OPT IN using that "Order Number."
Thank you!
Sold Out
Events in this Series:
Series description
An error occured. Wait a few minutes then try again. If the problem persists contact technical support.