ONLINE CLASS! Herbs & Spices 101: How To Season Foods Like A Pro w/ Chef Jill Garcia Schmidt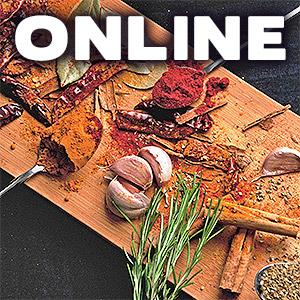 39 Seats available
Price $30.00
Instructor: Chef & Lead Instructor Jill Garcia Schmidt
Location: Online Cooking Class!
NOTE: This class was moved from Wed 7/8.
THIS CLASS IS OFFERED ONLINE AS A LIVE COOKING CLASS!
Yup! We'll be sharing the same amazing culinary education you'd get if your backside were in a seat in our kitchens, except you can be in your jammies (we won't judge!). Take notes. Ask questions and have the instructor answer them LIVE! Take your skills in the kitchen up a tasty notch. We promise it'll feel a whole lot like you're here AND you'll be practicing safe social-distancing (See what we did there?) (See details below to register.)
Class Description:
OK, show of hands... how many of you still have the same tins/jars of herbs and spices given to you as a wedding gift? You know who you are. Learning how to use 'em is not rocket science, and it's not something practiced by learned alchemists.
Let's join Chef and Lead Culinary Instructor Jill Garcia Schmidt as she leads you through this informative online class and demystifies the fragrant world of herbs and spices. Chef Jill has a down-to-earth teaching style with lots of humor sprinkled in. You'll learn a lot from this engaging professional, and she makes sure you have loads of fun at the same time!
Chef will cover a lot of ground in tonight's demonstration class as she explores seasoning basics like how to determine which spices and herbs work well with certain meats or vegetables… and why!
You'll learn about many varieties of herbs and spices; find out how to toast and grind them; learn about 'fresh vs. dried'; how to experiment with seasoning blends (our best friends in a busy kitchen); learn how to make your own spice blends (it's easier than you think!); understand what spices and herbs complement each other; and obtain tips on how to apply them to foods to create incredibly tasty dishes.
Then, Chef Jill will show off her mad cooking skills as she whips up a few simple dishes to show you how it's done.
Bring your questions, 'cause this is going to be one heck of a must-take class for the novice or the seasoned (Ha Ha!) cook! It will change the way you cook. Promise.
Online Class | Includes Recipes
Wed 7/08/20 Begins at 6:30 p.m. CST

Here's How To Be A Part Of This Online Class:
1. Register below and receive a Confirmation Email with your "Order Number"
2. Separately, we'll send you a link to a Closed Facebook Group set up just for this Class where you will OPT IN using that "Order Number."
Thank you!
Sold Out
Events in this Series:
Series description
An error occured. Wait a few minutes then try again. If the problem persists contact technical support.