Let's 'Nail It' It Today! An Intensely Serious (or Not) Holiday Cake Decorating Competition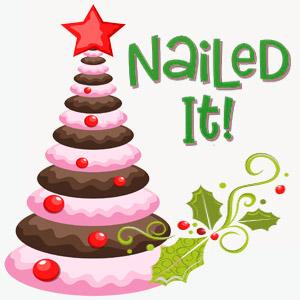 6 Seats available
Price $60.00
Instructor: Vicky Lara
Location: The Culinary Center of Kansas City
Calling all home bakers who may or may not have a poor track record in the kitchen and seek redemption!! Or maybe you just like a bit of friendly competition… and a prize! Move over "Ace of Cakes, we're taking cake decorating to a whole new level!
Tonight's Head Decorating Elf, Vicky Lara, will lead this super fun holiday cake decorating class where students will try their hand at re-creating an edible masterpiece. (No, we can't tell you what the design will be 'cause we don't want anyone practicing at home. That's called cheating. But we CAN tell you it will be oh so festive!) Whomever comes the closest will receive mad 'prizeage' (I just made that up.)
Ok, Ok… Vicky will show you some fundamentals of cake decorating before you start. We are a culinary center, after all! Then we'll let you loose to get your decorating on and "nail it" to see if you can win!
This ain't no kids birthday party where everyone gets a prize! No way. Your project may kick some cake-decorating butt or it may miss the mark a bit, but we promise you'll have lots of holiday fun and learn some useful cake decorating tips in the process.
We'll have very merry seasonal music playing to get you in the Christmas spirit, and did we mention that we will give you wine? Of course we will, so quit your whining… and you get to take a decorated holiday cake home and show off to your family - or better yet, leave it out for Santa to enjoy when he drops off your presents, for heaven's sake.
By the way, the winner will get a gift certificate to use at The Culinary Center of Kansas City… hopefully for more cake decorating lessons.
Ho Ho Ho… what a tasty way to celebrate the holidays! Let's do this!
Participation Class | Take-Home Decorated Mini Cake
Sun 12/20/20 4:00 - 6:00 p.m.

NOTE: Unless otherwise noted, each evening class fee includes one glass of beer/wine, with additional beverages available at a nominal cost.
NOTE: For Onsite Classes,please note that we are committed to providing the highest degree of safety for our guests including compliance with all applicable governmental orders. In this regard our protocols may change from day to day and we ask for your patience as we maneuver this not-so-delicious time. We have limited enrollment in our classes in order to provide for appropriate social distancing so it is important that you let us know at the time of registration whether you will be sitting next to someone else attending the class. You can note this in the "comments" section when you register online, or you can call us with this information at 913-341-4455. In this case, we will assume that you and the other person(s) are comfortable sitting next to each other. When you arrive, please check in with our Class Assistant who will give you information as to where you will be seated. If you have any questions, please feel free to contact us!
Sold Out
Events in this Series:
Series description
An error occured. Wait a few minutes then try again. If the problem persists contact technical support.