Dinner with "The Family" featuring Chef Sandy DiGiovanni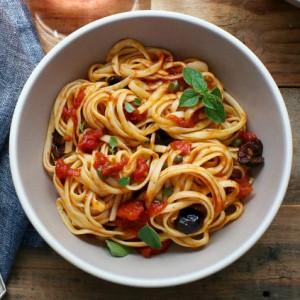 4 Seats available
Price $75.00
Instructor: Chef Sandy DiGiovanni
Location: The Culinary Center of Kansas City
YO, you…..yeah, I'm talking at YOU! The Boss, aka Chef Sandy Digiovanni, would like me to invite you to join her for dinner with "the family". She told me to tell you that she's gonna the break da code of silence and show all of yous how to make some real Italian mob food. You know, da kind of foods that Pauli from Goodfellas or Tony Soprano and his minions woulda ate in the back room of da Ba Da Boom. Tonight's menu is so good, you're gonna think you got whacked and went to heaven. Fuggetaboutit.
Chef Sandy will show you how to create Italian classics like Pasta Putanesca ("Ladies of the Night" Pasta), Sausages and Peppers, Sausage "Sangwich" with Peppers and Onions, and Pauli's Famous Pasta Alli Ogie (Remember the scene with the razor blade and the garlic?) You willdon an apron (unless you think you look good in concrete boots) and work alongside Chef to help her prepare some of the recipes, too. Aww, don't be scared, you're gonna have a good time tonight. Cause I said so.
Of course, the night wouldn't be complete without learning to make Chef Sandy's Godmother Lee's Cannoli. Whoa.
I promise an authentic experience - right down to the long group tables and the Louis Prima music. So, don't be a wise guy…sign up early. You'll be there….capiche?
Limited Hands On | Dinner
Fri 9/17/21 6:30-9:00 p.m.
NOTE: Unless otherwise noted, each evening class fee includes one glass of beer/wine with additional beverages available at a nominal cost.
Our Flavorful Weekend Nights™ classes are just that, unique and tasty culinary experiences on weekend nights, most of which are hands-on! Movie, Schmovie... why not learn to cook with your friends, dates or your "luvva"? They are the perfect mix of culinary education and fun night out!
Flavorful Weekend Nights™ is a trademark and service mark of The Culinary Center of Kansas City®.
NOTE: For Onsite Classes, when you arrive, please check in with our Class Assistant who will give you information as to where you will be seated. We will be arranging our classrooms to allow for social distancing. In order to comply with governmental orders and for the protection of our guests and staff, we ask that you wear a mask when here at The Culinary Center of Kansas City. If you are planning to sit next to someone else attending the class, we would suggest arriving at least 20 minutes prior to the start time of the class so that we can address that request. Both students would need to be comfortable with the request to be seated together. Thank you!
Sold Out
Events in this Series:
Series description
An error occured. Wait a few minutes then try again. If the problem persists contact technical support.