Advanced Knife Skills with Chef Richard McPeake - Xmas Gift Idea!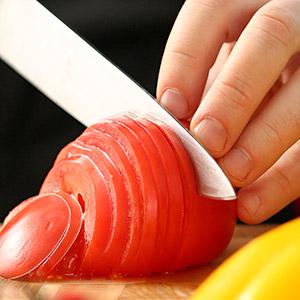 14 Seats available
Price $65.00
Instructor: Chef Richard McPeake
Location: The Culinary Center of Kansas City
A great Christmas Gift Idea!
Proper knife skills are the foundation for all cooking. When someone tells us they want to learn to cook, we immediately suggest that they take a couple of basic Knife Skills classes. It's that important. If you would like to up your game in the knife skills area OR add to what you have learned in our popular Knife Skills I01 class, then this is the class for you! (NOTE: There is no pre-req. required for this class.)
You will learn to use a boning knife and a paring knife as Chef Richard McPeake teaches you the skillful and professional way of fabricating a whole chicken. We'll produce Chicken Breast Supremes, Chicken Tenders, Semi-Boneless Chicken Thighs and Legs, and we'll practice the art of roll cutting and tourney, a classic fresh vegetable cut that many chefs still attempt to perfect!
In addition, we'll discuss various types of boning knives and their uses, sharpening, storage and other important information. This is a full "hands-on" class under the supervision and tutelage of one of the best, Chef Richard McPeake.
So, what to do with all this chicken and vegetables you've masterfully cut during class, you say? Well, it would make sense that you would also learn how to make a proper chicken stock, now wouldn't it? So, we'll do that too!
(You may bring your own boning knife/knives to class, or you may use ours.)
Please note that alcoholic drinks will not be available during this class.
Hands On
Wed 1/26/22 6:30-9:00 p.m.
Mask Policy:We are committed to providing the highest degree of safety for our guests including compliance with all applicable governmental orders. At this time, if you or your child are fully vaccinated, we do not require that masks be worn when attending a class.
Sold Out
Events in this Series:
Series description
An error occured. Wait a few minutes then try again. If the problem persists contact technical support.