Junior Chefs 3-Day Cooking Camp: Eating America! (American Regional Cuisines)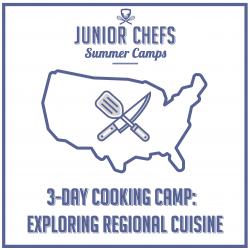 22 Seats available
Price $295.00
Instructor: Bruce Campbell
Location: The Culinary Center of Kansas City
JUNIOR CHEFS 3-DAY COOKING CAMP: EATING AMERICA! (AMERICAN REGIONAL CUISINES)
Hands On
Tues 7/18, Wed 7/19, Thurs. 7/20
9:00-1:00 Series Fee: $295
Chef Bruce Campbell
Kids want to learn what they love to eat! So Chef Bruce Campbell, an experienced cooking instructor and award-winning competition BBQ'r has designed an interactive 3-day cooking camp for young chefs (ages 9-14) that highlights 3 uniquely-different kid-favorite American regional cuisines: Southern Cuisine (including Cajun and Creole among other American Southern styles), Pacific Island Cuisine (think Hawaiian) and some finger lickin' Midwest Kansas City Barbecue styles. I mean who could live in KC and not instill the fundamentals of BBQ in their kids? Once you register, you can those kids on their way to this culinary trip across America and know they will 'come back' with techniques, recipes and basics of cooking that will be with them for the rest of their lives! They will of course also know how to DO ALL OF THIS AGAIN at home…for YOU! (What a bonus right?) A super fun summer camp experience that can't be found elsewhere. We promise.
Events in this Series:
Junior Chefs 3-Day Cooking Camp: Day #1 Southern Cooking
Day #1: Southern Cooking, Today we study FLAVOR! We'll start with seasonings and how to mix them. The kids will take home their very own customized seasoning mix. Then we'll dig deep into the Cajun/Creole world of New Orleans with Chicken and Sausage Jambalaya, Shrimp Po-Boy Sammies and we'll even make the iconic Bread Pudding With a Sweet Butter Sauce. Ooo La Wee! Some kinda fun in the kitchens today.
Hands On / Take-Home Seasoning Mix / Tastings

Junior Chefs 3-Day Cooking Camp: Day #2 The Pacific Islands
Day #2: Pacific Island Cuisine. I don't know what will be more fun...cooking foods like Huli Huli Chicken or saying the recipe name! The kids will learn how to work with the ingredients indigenous to Hawaii and other Pacific Islands. There will even be a kid-friendly drink that features pineapple! Aloha kakahiaka Junior Chefs & a fun cooking session!
Hands On / Tastings
Junior Chefs 3-Day Cooking Camp: Day #3 - KC BBQ Styles
Day #3: KC BBQ Styles. Kids in Kansas City don't know what it's like to NOT have choices when it comes to fantastic BBQ foods right? It's an absolute MUST that they carry on the local traditions to the next generation. Today it's about grilling fundamentals, How to make BBQ Rubs and BBQ Sauces and of course how to grill meats, vegetables and even dessert! Clear a shelf at home for all the competition BBQ awards that these kids will mop up as they grow up! Long live BBQ!
Hands On / Tastings
Sold Out
Events in this Series:
Series description
An error occured. Wait a few minutes then try again. If the problem persists contact technical support.