Junior Chefs 3-Day Camp: The Great American Baking Camp!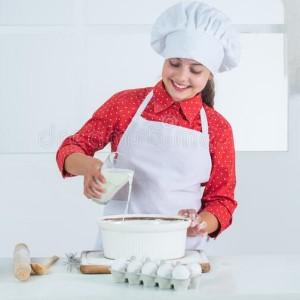 18 Seats available
Price $325.00
Instructor: Rachel Van Stratton
Location: The Culinary Center of Kansas City
JUNIOR CHEFS 3-DAY CAMP: THE GREAT AMERICAN BAKING CAMP!
Hands-On / Tastings / Recipe Binder

Session #2: Tues. 7.25.23, Wed. 7.26.23 + Thurs 7.27.23 9:00am – 1:00pm $325
Get ready. Get set. Learn to bake! Junior Chefs (ages 9-14) interested in exploring the sweet world of pastry arts will learn the fundamentals of baking from experienced Pastry Chef Rachel Van Stratton. Expect lots of hands-on time and a whole bunch of fun as the kids learn important culinary skills while crafting amazing cakes, cookies and pies. Each class will build upon the day prior. The skills learned in this 3-day camp will lay the foundation for these Junior Chefs love of baking for the rest of their life. They'll get their hands in on the action as they whip up yummy pies, cakes (forget about those boxed mixes) and cookies. This jam-packed interactive camp will also include lessons on cookie and cake decorating techniques that the kids will get to practice. This camp fills fast - so sign up today!
NOTE: Students should bring a sack lunch or a snack.


Important Information About This Camp:

We Require A Waiver Signed By Parent/Legal Guardian: Prior to admittance to this class, a Waivermust be signed by a parent or legal guardian. [Click here to download the Waiver] The Waiver requires that you provide (1) a phone number where you can be reached during the class if necessary and (2) name(s) of any additional people who are authorized to pick up the child after class. We encourage you to print off a copy of this Waiver, sign it and either 1) scan and email it to heather@kcculinary.com or 2) bring it to class with your student. Without an appropriately signed Waiver your child will not be allowed to attend class. We are sorry but we cannot make any exceptions to this rule. Also note that If someone other than the parent signs a Waiver, they will need a legal document to be presented that shows without question that they have the legal authority to sign a Waiver on behalf of your child at that time.
What To Wear To Class: For safety reasons, we also recommend that students wear close-toed shoes, long pants and have long hair pulled back.
If Your Child Plans To Attend Class With Someone Else,please add their name(s) to the Comments section of your online registration so that we can honor that request. Otherwise, we cannot gurantee that they will be seated together for the class.
Only Registered Students Allowed In The Classroom During Class: This is so your child will have the best possible experience and the instructors have their full attention. Parents should plan to pick up their students at the end of the advertised hours for their class.
Important Information Regarding Children With Special Needs: Our cooking instructors are skilled in teaching culinary education at an age appropriate level. Several of our instructors even have early childhood and teaching background and certification. However, we are not equipped to work with, nor are these classes designed for, children who may have special needs, issues with focus, or difficulty with sitting still to listen and concentrate on the instructor or issues with relating to other students in a classroom setting. When we encounter a student who requires significant special attention, the experience for the other students suffers. While our class and cooking camps are well staffed, we don't have the staff to be able to allocate someone to work directly with your child for the entire class. Should we identify a situation where we believe a student falls within one or more of these categories, we will be contacting you to pick up your students. Unfortunately, we will not be able to issue a refund for all or any part of the class or camp fees. Please feel free to call us to discuss any questions or concerns that you feel should be discussed in advance of your child's class. Please be aware of our 72-hour cancellation policy.
Events in this Series:
Junior Chefs 3-Day Baking Camp: Day #1: Baking 101
Day #1: Baking 101. Today the Junior Chefs will be introduced to the world of baking as they learn proper techniques, equipment, tips, mixing, measuring (yes, there is a right way!), scales, how to read a recipe, ingredients and baking vocabulary. They will learn as they make pastry dough, cake batters and cookie dough.
Junior Chefs 3-Day Baking Camp - Day #2: Let's Get Rollin'
Day#2: Let's Get Rollin'. We'll concentrate on what comes next for our pies, cakes and cookies as we learn how to properly roll doughs, prep and fill cake pans, create fillings and cut cookies from our dough. The ovens will work overtime today as the kids are enlightened on how to properly bake their pastry goods.
Junior Chefs 3-Day Baking Camp-Day #3: The Finishing Touches
Day #3: The Finishing Touches. It's all about creating icings, decorating techniques, how to fill and use pastry bags, pastry tips, cookie & cake decorating, the proper way to crumb coat and ice cakes and other ways to prepare your baked goods for presentation.
Sold Out
Events in this Series:
Series description
An error occured. Wait a few minutes then try again. If the problem persists contact technical support.